A Naturopath that can come to you!
| | |
| --- | --- |
| Posted on July 14, 2016 at 5:50 PM | |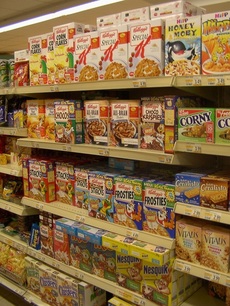 If you've been walking around the supermarket lately wondering how some products received the Health Star Ratings they did, you wouldn't be alone!
While shopping on the weekend I noticed something that I thought was a bit odd. The Sultana Bran Bud Cereal has a Health Star Rating of 4.5 out of 5 stars. ​
I presumed, given the very high rating, that this must be some seriously super healthy cereal (as you would expect from a food given 4.5 stars), but not so!
Here's what I found:
The ingredients of Kellogg's Sultana Bran Bud Cereal are as follows:
Wheat bran (29%), wheat flour, sultana filling (20%)(sultanas [10%], invert sugar syrup, humectant [glycerol], flavour), sugar, Hi-Maize™ corn starch, colour (caramel I, 160a), salt, rosemary extract, vitamins (vitamin E [soy], niacin, vitamin B6, riboflavin, thiamin, folate), skim milk powder, minerals (iron, zinc oxide).
​​
And the Nutitional Panel looks like this: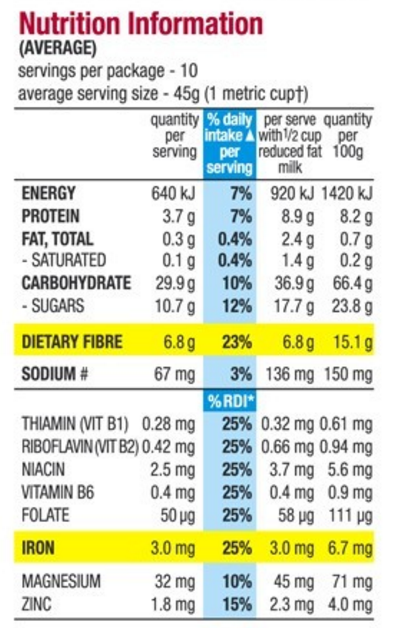 Firstly, let me say that the serving sizes of most breakfast cereals are quite misleading. 1 cup of this cereal is not really very much at all! Most kids let alone adults would easily eat 2 cups worth, so you can't really read much into the amounts under the 'Quantity per Serving' column. I generally always read my labels according to the 'per 100g' column - that way it's a level playing field when doing comparisons and it allows you to see easily what percentage of a product that nutrient makes up.
So for this particular product, sugar makes up around 24% of the product. Not much of that sugar content is due to the dried fruit as you'll notice on the ingredients that only 20% of the product is the sultana filling, (which may sound ok until you realise that only 10% of that 20% is actually sultanas, the rest of the sultana filling is made up of sugars etc. 10% of 20% is only 2%!)
So if a someone has just 1 cupful of this cereal in the morning, they will be getting 10.7g of sugar (that's over 2.5 teaspoons worth), but if you eat serving sizes you'll be heading off  with about 20g (5 teaspoons) of sugar in your bellies and brains.
So how is it that a product that is so high in sugar (which we know to be so damaging) can get such a high Health Star Rating?
In a very simplistic explanation, foods under the Health Star Rating are given baseline negative points based on the amount of saturated fat, total sugars, sodium and energy in the product. They then receive positive points to counteract that based on the protein, fibre, fruit and vegetables content. The total point score gets converted into a Health Star Rating.
So I can only assume (for it's beyond me how this system works after seeing many poor examples!), that this product was given positive points for it's sultana content !!, it's fibre content, and for some of the nutrients that have been added in to it. That's not enough to counteract the negatives in my eyes......
Here's a few other examples of how the system is failing
A plain Greek Yoghurt gets 1.5 stars while Beer Battered Chips get 4 stars! Doesn't make a whole lot of sense!
Coconut Oil receives 1 star while Jaffas receive 3 stars.
Woolworths Select Straight Cut Chips get FIVE stars! What the HELL!!!!
Oh - and did I mention that the system is voluntary! And that it really only applies to packaged, processed foods, not all the lovely fresh fruits and vegetables!
There are many other flaws to the system and how it rates foods, but my biggest concern is that once people see a high Health Star Rating, that they will no longer feel the need to check the label. They will trust the system, without realising that the system can't always be trusted.
So next time you're doing your shopping, just remember that fresh is best! Ditch as much of the processed stuff as you can, and load your trolley with whole foods, that aren't processed, then you won't have the headaches of having to label read all the time!
And.... when you do buy something packaged/processed - DON'T trust the Health Star Rating!! Look at the ingredients and the nutritional panel for yourself and make your own educated decision.
Heather Lavery
Naturopath/Nutritionist/Herbalist
Insight Natural Wellness
www.insightnaturalwellness
www.facebook.com/insightnaturalwellness
Categories: Nutrition
/