Shopping Cart
Your Cart is Empty
There was an error with PayPal
Click here to try again
Thank you for your business!
You should be receiving an order confirmation from Paypal shortly.
Exit Shopping Cart
A Naturopath that can come to you!
| | |
| --- | --- |
| Posted on July 12, 2017 at 6:25 PM | |
 This Raw raspberry slice tastes just as good as it looks, making it the perfect mid-arvo treat that you don't have to feel guilty about. You can access this raw raspberry slice along with other guilt-free recipes in delicious, Feel Good Food by Valli Little, which is available in bookshops nationally.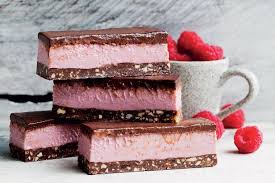 Makes: 18 Slices
Prep Time: 1hr 15mins
Ingredients:
Base
1/2 cup (50g) raw cacao powder
1/4 cup (60ml) melted coconut oil, cooled
12 medjool dates, pitted
2 cups (300g) raw cashews
Filling
1/3 cup (25g) shredded coconut
1/2 cup (125ml) pure maple syrup
25g fresh or frozen raspberries, thawed
Topping
60g Coconut oil
1/3 cup (80ml) pure maple syrup
1/3 cup (35g) raw cacao powder
Method:
Line a 20cm square baking pan with enough baking paper to overlap 2 sides of the pan
To make the base, place the cacao, oil, dates and 1 cup (150g) cashews in a high-speed blender and whiz to a coarse paste. Spread evenly into the prepared pan, then transfer to the freezer to firm up.
For the filling, place the coconut, maple syrup, rasberries and remaining 1 cup (150g) cashews in a clean high-speed blender and whiz to a smooth pase. Spread the mixture evenly over the chilled base, then return to the freezer to firm up.
For the topping, place all the ingredients in a bowl set over a saucepan of gently simmering water and stire until smooth and combined. Remove the bowl fro, the heat and cool to room temp. Pour over the chilled raspberry filling, then return pan to the freezer to set
Once the topping has set, remove pan from the freezer. Using the baking paper, lift slice out of the pan. Using a hot knife, cut into 18 bars to serve. Keep frozen or refrigerated until ready to serve.
| | |
| --- | --- |
| Posted on July 10, 2017 at 11:40 PM | |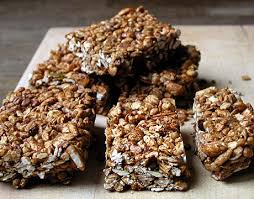 Ingredients:
Coconut/Avocado or Almond Oil (your choice)
75g blanched raw almonds
250g rolled oats
40g sunflower seeds, or pumpkin seeds or a mix of both
100g runny honey
6 tablespoons smooth peanut butter or almond butter
10 Medjool dales, Stones in
40g bran
1 teaspoon ground cinnamon
1 pinch of ground himalayan salt
50g dried cranberries
50g dried apricots
Method:
Preheat the oven to 180 degrees
Lightly grease a 22cm-square baking dish with oil then set aside
Roughly chop and add the almonds to a large baking tray with the oats and seeds. Spread them out into an even layer and place into the oven for 12-15minutes, or until golden. Stir halfway through time.
Gently heat the honey and nut butter in a small pan over a low heat. 
Meanwhile, slit open the dates, pull out and discard the stones, then place into a blender with 100ml of warm water
Blitz to a paste, stir into the warmed honey mixture then leave to cool
Roughly chop the dried fruit.
Take tray out of oven and transfer the toasted mixture to a large bowl with the bran, cinnamon and salt. Stir in the dried fruit, then mix in the honey mixture until well combined.
Spoon mixture into the prepared baking dish, using the back of a spoon to press it into an even layer
Bake in the oven for 15 minutes or until golden and set
Leave to cool slightly, turn it out onto a board and cut into squares. Then set aside to cool completely.
Store in an airtight container and enjoy!
/